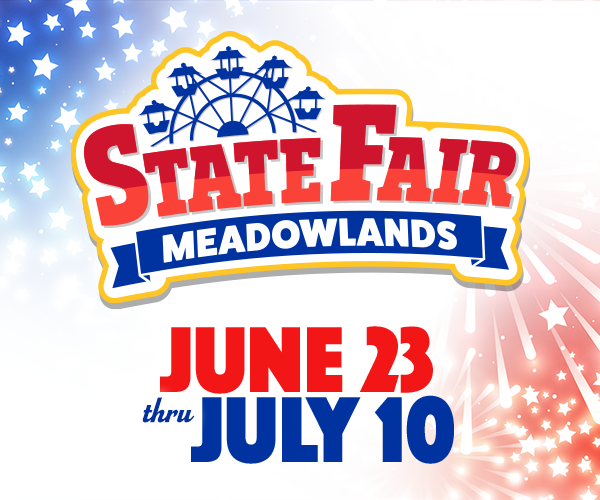 State Fair Meadowlands
New Jersey's Largest Family-Friendly Event is BACK for 18 Days of Fun
Now Running June 23rd – July 10th at MetLife Stadium in East Rutherford, NJ
East Rutherford, NJ, May 2, 2022 – The State Fair Meadowlands is back for another summer blowout full of thrilling rides, exciting games, food galore, and all the fun you can imagine. New Jersey's largest event of the summer will take place from June 23rd through July 10th. This year's Fair will be THE can't-miss event of the summer.
This year's State Fair Meadowlands will showcase new, can't-miss FREE entertainment and beloved fan favorites that will not disappoint, such as:
Jurassic Kingdom Lockdown
Pirates of the Columbian Caribbean
Cycle Circus
BIG BEE Transforming Car
Famous Racing Pigs
Hypnotist Steve Bayner
Illusionist Josh Knotts
Magician Lance Gifford
"We're really looking forward to being back this summer. This year's State Fair Meadowlands will undoubtedly be the best yet. Be sure to check it out – you won't want to miss it," said Mike Dorso, Vice President of State Fair Meadowlands.
Taking place over 18 days, the State Fair Meadowlands will be open weeknights with extended hours on weekends and July 4th. Parking is free everyday for all Fairgoers. Taking Uber to the Fair? Be sure to follow directional signs to the designated drop off and pick-up location.
Additional highlights of this year's State Fair Meadowlands:
Spectacular Fireworks Displays on both July 3rd and July 4th. The fireworks can be seen from anywhere on the fairgrounds.
Cycle Circus, a fan-favorite! Watch as the Cycle Circus daredevil team puts on a thrilling FMX show right on the Fairgrounds.
Josh Knotts, illusionist, will be right on the main stage getting into and out of some sticky situations. Those will be performances you don't want to miss!
Magic of Lance Gifford, a new face at the State Fair Meadowlands who is sure to impress as well as hilarious hypnotist Steve Bayner, a returning fan-favorite.
Petting Zoo, another popular returning attraction. Children and adults, alike, can stroll through and interact with all kinds of different animals, like ponies, llamas, donkeys, and much more! Be sure to check out the pony rides, too, for an additional fee.
And, the State Fair Meadowlands has become synonymous with its amazing range of Fair food. There's literally something to satisfy everyone's tastebuds, ranging from corn dogs and cheeseburgers to mouth watering empanadas and steak sandwiches washed down with
hand-squeezed lemonade and lots more. If you're in the mood for something lighter, you'll have to check out the Greek kabobs and salads with some shaved ice to cool you off. On the way out, funnel cake and fried candy bars are always a must!
The State Fair Meadowlands will have hundreds of rides to get your heart rate going. With the largest Kiddie Land in all of New Jersey, there are plenty of options for children and adults, alike. Also, don't forget to try your skill at the tons of games that the Fair has to offer, like basketball free throws and water gun races! For more information, visit www.njfair.com.
ABOUT THE STATE FAIR GROUP
The State Fair Group is dedicated to providing the best value in family entertainment. Established as a family-owned business in 1921, the State Fair Group has values that have remained the same as the fourth generation enters the family business. Our family and our team of managers share the vision of providing the highest quality service and products while maintaining traditional values and integrity, including a pledge to reduce the environmental impact of the Fair.
As New Jersey's largest single-family event, we strive to produce a fertile environment for innovation and creativity. State Fair Meadowlands is a place where families enjoy quality rides, plenty of free entertainment, exciting games and prizes, as well as a wide and diverse selection of delicious foods. There are a variety of activities to interest all ages. Careful planning and a concerted effort by all involved to develop and promote the Fair as a place where families may enjoy an exciting and affordable day of special activities is always our mission.
HOURS:
Thursday, June 23rd 6:00 PM – 12:00 AM
Friday, June 24th 6:00 PM – 1:00 AM
Saturday, June 25th 2:00 PM – 1:00 AM
Sunday, June 26th 2:00 PM – 12:00 AM
Monday, June 27th 6:00 PM – 12:00 AM
Tuesday, June 28th 6:00 PM – 12:00 AM
Wednesday, June 29th 6:00 PM – 12:00 AM
Thursday, June 30th 6:00 PM – 12:00 AM
Friday, July 1st 6:00 PM – 1:00 AM
Saturday, July 2nd 2:00 PM – 1:00 AM
Sunday, July 3rd 2:00 PM – 1:00 AM
Monday, July 4th 2:00 PM – 12:00 AM
Tuesday, July 5th 6:00 PM – 12:00 AM
Wednesday, July 6th 6:00 PM – 12:00 AM
Thursday, July 7th 6:00 PM – 12:00 AM
Friday, July 8th 6:00 PM – 1:00 AM
Saturday, July 9th 2:00 PM – 1:00 AM
Sunday, July 10th 2:00 PM – 12:00 AM