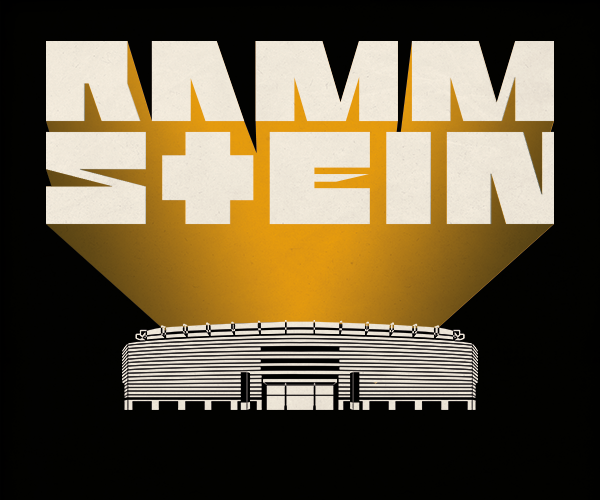 Rammstein – Stadium Tour 2022
RAMMSTEIN IN AMERIKA – FIRST EVER NORTH AMERICA STADIUM TOUR
The Rammstein concert originally scheduled for September 10, 2020, and then postponed to September 10, 2021, has been rescheduled for September 6, 2022. All tickets purchased for the 2020 and 2021 shows are valid for the new 2022 date.
The North American tour of the most extreme spectacle in live music will finally take place in fall 2022, when RAMMSTEIN brings its full-scale stadium production to MetLife Stadium on Sept. 6, 2022, for the first time ever. Rock n roll's most ambitious pyro-theatrical experience will be on full display that night.
"If we define fun as the unknowing acceleration of time, then Rammstein's particular brand of self-obliteration, in which time collapses entirely, is a guaranteed good time" —THE NEW YORKER
"The commitment to excessive pyromania was epic stagecraft on a Wagnerian scale, several notches up from most arena rock. More important was that the six-piece band… wasn't dependent on those fireworks but could have easily punished and soothed the senses to nearly the same effect with music alone." —THE LOS ANGELES TIMES
"One of heavy music's biggest and most dynamic live acts" —CONSEQUENCE OF SOUND
RAMMSTEIN's six-man lineup CHRISTOPH SCHNEIDER, FLAKE LORENZ, OLIVER RIEDEL, PAUL LANDERS, RICHARD Z. KRUSPE, and TILL LINDEMANN, has remained unchanged since the band's 1994 formation and 1995 release of its debut album, HERZELEID.  RAMMSTEIN's second album, SEHNSUCHT, released in 1997, propelled the band to international fame and featured the GRAMMY-nominated single "DU HAST." MUTTER, the third RAMMSTEIN album, was released in 2001 and was supported by what would be the band's final U.S. tour for nearly a decade. REISE, REISE, the band's fourth studio album, was released in 2004, preceded by the GRAMMY-nominated single "MEIN TEIL" and followed by fifth album ROSENROT in 2005. LIEBE IST FÜR ALLE DA, the sixth RAMMSTEIN studio album, was released in 2009 and reached #13 on the Billboard 200, making it RAMMSTEIN's highest-charting album in the U.S. up to that point.
LIFAD would be the first RAMMSTEIN album since 2001's MUTTER to be supported by North American touring: On December 11, 2010, RAMMSTEIN played its first U.S. date in 10 years, a one-off headline at Madison Square Garden in New York City. The MSG show sold out in less than 20 minutes and was followed by extensive North American Tours in 2011 and 2012, which would sell out venues including the Forum in Los Angeles, Chicago's Allstate Arena, the Bell Centre in Montreal and more. RAMMSTEIN made its debut on U.S. network television during the 2011 tour, performing "DU HAST" and "FEUER FREI!" on JIMMY KIMMEL LIVE!
RAMMSTEIN broke into the U.S. Top 10 for the first time with the May 17, 2019 release of its seventh and most recent album, which entered at #9 on the Billboard 200. Produced by Olsen Involtini with RAMMSTEIN, the untitled record is comprised of 11 new RAMMSTEIN tracks including singles "AUSLANDER," "RADIO" and "DEUTSCHLAND."
COVID-19 Entry Protocols
Guests are not required to wear a mask to enter and do not need to show proof of vaccination or provide a negative COVID-19 test. The NJ Department of Health recommends wearing a face mask when recently exposed to someone with COVID-19, or if you live in a county with elevated or "high" COVID community level. Check back for updates as these guidelines are subject to change. Visit the Stadium Safe page for more information.
Last Updated: June 8, 2022