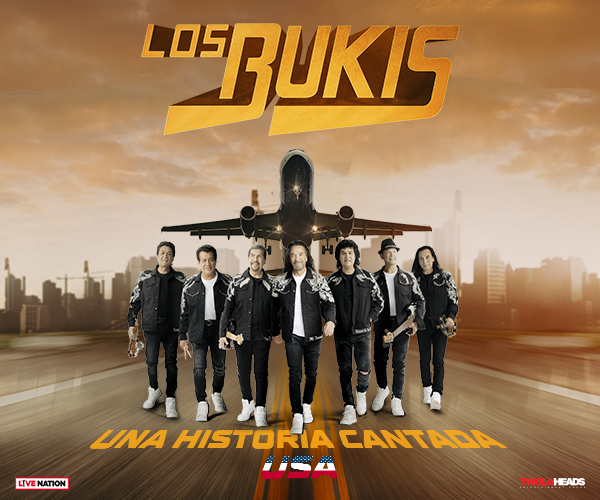 Los Bukis – Una Historia Cantada
LOS BUKIS ANNOUNCE SPECIAL CONCERTS TO CLOSE THEIR RECORD-SETTING UNA HISTORIA CANTADA TOUR
The Historic 25th Anniversary Reunion Tour Of The Iconic Mexican Group Is Already The Biggest-Ever Latin Music Stadium Tour In The United States, And Was The #2 Most Successful Tour Of 2021 Worldwide
Los Bukis have announced a unique and limited number of special stadium and amphitheater shows being added to their record-shattering Una Historia Cantada run. Planned as the final opportunity U.S. audiences will have to see Los Bukis perform live, this new run of shows will close the band's reunion chapter with dates beginning on Saturday, July 30th at MetLife Stadium in East Rutherford, NJ. General public tickets will go on sale Friday, May 6th at 10 a.m.
The 2021 run of the tour broke multiple records — it was not just the biggest Latin tour of 2021 but the second biggest tour worldwide for the year, selling out 9 stadiums with almost half a million fans.
The Una Historia Cantada Tour also created one of the Latino community's biggest viral trends of 2021, as thousands of fans took to social media- posting the moment they presented tickets to their parents as a gift around Father's Day.  With the 2022 dates set to go on-sale this week, look for a possible repeat social presence in tandem with Cinco De Mayo and Mother's Day.
About Los Bukis
Founded in 1976 by cousins Marco Antonio Solís and Joel Solís, and dissolved in 1996, Los Bukis recorded 16 studio albums that quickly won the public's heart and produced numerous chart-topping and multi-platinum to Diamond certified songs that are among the most revered by fans across the Latin Music spectrum. The Houston Chronicle details that "Los Bukis emerged in the 1970s as a new force in the grupo genre with a cornucopia of hits. By the '80s, they completely dominated Mexico's pop-music scene."
COVID-19 Entry Protocols
Guests are not required to wear a mask to enter and do not need to show proof of vaccination or provide a negative COVID-19 test. The NJ Department of Health recommends wearing a face mask when recently exposed to someone with COVID-19, or if you live in a county with elevated or "high" COVID community level. Check back for updates as these guidelines are subject to change. Visit the Stadium Safe page for more information.
Last Updated: June 8, 2022