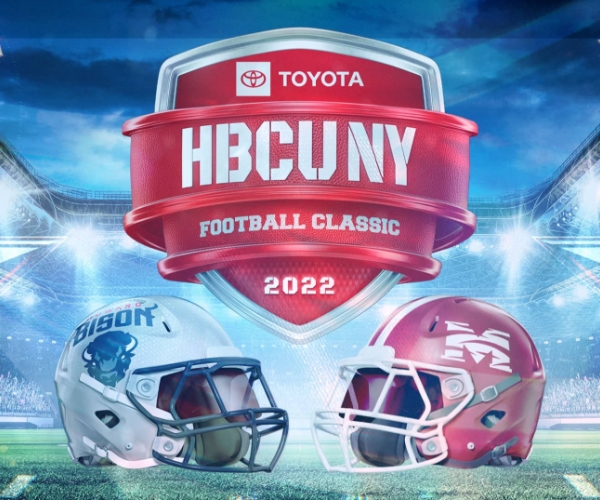 HBCU New York Football Classic: Morehouse Tigers vs. Howard Bison

SPORTS ELEVEN05 TO PRESENT
INAUGURAL HBCU NEW YORK FOOTBALL CLASSIC FEATURING MOREHOUSE COLLEGE & HOWARD UNIVERSITY
Halftime Features Drum Line Spectacular and Battle of the Bands Between Morehouse and Howard Marching Bands
Debut of HBCU New York City Football Classic to Take Place at MetLife Stadium in East Rutherford, New Jersey

Event organizers Sports Eleven05 will present the inaugural HBCU New York Football Classic featuring Morehouse College and Howard University on September 17, 2022, at MetLife Stadium in East Rutherford, New Jersey live at 3 p.m. ET.
The first edition of the HBCU New York Football Classic renews the historic rivalry between two premier institutions rich in heritage and tradition, both on and off the field. Howard and Morehouse have faced each other on the football field 37 times dating back to 1923, with Howard holding the all-time series advantage, 25-10-2. The teams last met in 2015 as Howard claimed a 25-17 victory at RFK Stadium in Washington, D.C.
Celebrating the tradition and pageantry of the HBCU gameday experience, the game's halftime show will feature spectacular drum line performances and the battle of the bands between Morehouse's "House of Funk" and Howard's "Showtime" marching bands.
Sports Eleven05 has teamed up with HBCU Tools For School Foundation, a nonprofit organization whose goal is to provide educational resources to students attending HBCUs regardless of social or economic status.  The HBCU Tools for School Foundation will pay tribute to all 105 HBCU schools during the game by giving each student book scholarships and laptops.
"Football fans, alumni and students along the east coast can reunite each year in the New York City area to enjoy the pageantry, excitement and camaraderie associated with the HBCU football experience," said Albert Williams, CEO, Sports Eleven05.
Tickets for the HBCU NY Football Classic are on sale now at ticketmaster.com. To reserve a private suite for the game, email suites@metlifestadium.com for more information. For any other inquiries on the event, please call 833-NYC-HBCU (692-4228).
COVID-19 Entry Protocols
Guests are not required to wear a mask to enter and do not need to show proof of vaccination or provide a negative COVID-19 test. The NJ Department of Health recommends wearing a face mask when recently exposed to someone with COVID-19, or if you live in a county with elevated or "high" COVID community level. Check back for updates as these guidelines are subject to change. Visit the Stadium Safe page for more information.
Last Updated: June 8, 2022