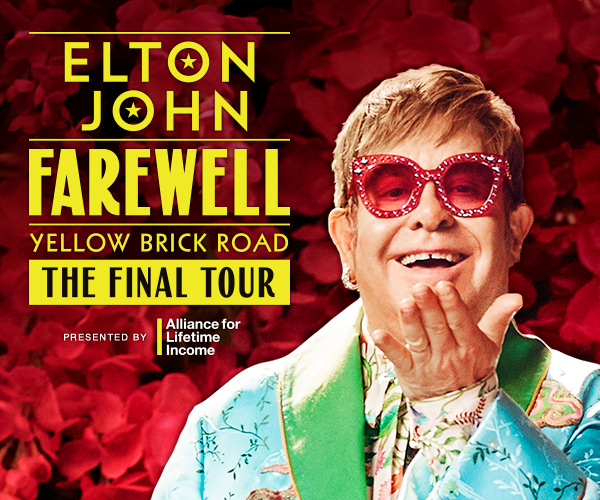 Elton John – Farewell Yellow Brick Road The Final Tour
ELTON JOHN FAREWELL YELLOW BRICK ROAD THE FINAL TOUR
Presented by Alliance for Lifetime Income
"…Elton John managed to turn a 20,000 seat arena into an electrifying nightclub." – Forbes
"Elton John's set on this tour is a beautifully curated trip through his golden era. He drops enough deep cuts to keep the musicians and veteran fans on their toes…" – Variety
"Elton John Is On Fire for 'Farewell Yellow Brick Road,' Making a Case for His Amazing Legacy as a Rock Legend" – Showbiz411
"…a celebration of the career of one of music's true living legends." –New York Post
"Leave it to Elton John to throw the most fabulous goodbye party of them all…" – Boston Globe
On the heels of Elton John's 75th birthday and his triumphant return to the stage this year, the iconic superstar and tour promoter AEG Presents announced the remaining North American dates for "Elton John Farewell Yellow Brick Road The Final Tour."
Elton's career achievements to date are unsurpassed in their breadth and longevity. Elton is one of the top-selling solo artists of all time. In the UK and US charts alone he has 1 diamond, 32 platinum or multi-platinum, and 21 gold albums as well as over 70 Top 40 hits. He has sold more than 300 million records worldwide.
Elton announced the 'Farewell Yellow Brick Road' tour at New York's Gotham Hall in January 2018. Encompassing 5 continents, and over 350 dates, this 5-year-long tour started in September 2018 and marks his retirement from touring after more than 50 years on the road. In 2019 it was named Billboard's Top Rock Tour and Pollstar's Major Tour Of The Year. To date, Elton has delivered more than 4,000 performances in more than 80 countries since launching his first tour in 1970. 2019 also saw the release of 'Rocketman' and global bestselling autobiography, 'ME'. An epic fantasy musical motion picture of Elton's life, 'Rocketman' has been a commercial and critical hit, taking close to $200m at the box office. It has won an Oscar, two Golden Globe Awards and a Critics' Choice Award and garnered BAFTA nominations. Its soundtrack was also nominated for a GRAMMY Award.
COVID-19 Entry Protocols
Guests are not required to wear a mask to enter and do not need to show proof of vaccination or provide a negative COVID-19 test. The NJ Department of Health recommends wearing a face mask when recently exposed to someone with COVID-19, or if you live in a county with elevated or "high" COVID community level. Check back for updates as these guidelines are subject to change. Visit the Stadium Safe page for more information.
Last Updated: June 8, 2022